Books by Michael Kwan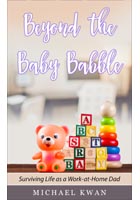 Beyond the Baby Babble: Surviving Life as a Work-at-Home Dad
By Michael Kwan
Head and shoulders (knees and toes) above all the rest, the single most life-changing event I have ever experienced was becoming a dad. And I quickly came to realize I was both like every other parent and completely unlike everyone else.
In Beyond the Baby Babble, I discuss the many trials, triumphs and challenges that come with trying to strike a balance between my professional duties as a small business owner and my duties as a full-time stay-at-home dad. The boundaries between traditional gender roles are blurring, both for me as an engaged father and for my daughter surrounded by princess culture.
And the journey is only just beginning.
Click here to buy Beyond the Baby Babble on Amazon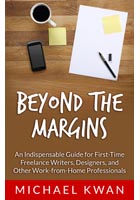 Beyond the Margins: An Indispensable Guide for First-Time Freelance Writers, Designers, and Other Work-from-Home Professionals
By Michael Kwan
Working as a full-time professional freelance writer since 2006, I've learned many lessons along the way about how to run my own business. There is a lot more to freelance writing than just the writing itself and the same applies to all sorts of other freelance businesses too.
In Beyond the Margins, I offer some advice and guidance to those of you who are considering a career in freelancing, helping you understand how to set goals, how to set up your home office, how to attract the right clients, how to set your rates and more. You too can earn a full-time income working from home.
Click here to buy Beyond the Margins on Amazon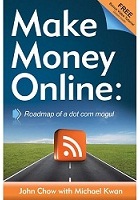 Make Money Online: Roadmap of a Dot Com Mogul
By John Chow with Michael Kwan
My friend John Chow has been able to make quite a name for himself as a professional blogger, consistently earning over $40,000 a month from his personal blog. In this book, John recounts how he got started with blogging, as well as the various methods that he has used along the way for both promotion and monetization.
While John is the one who offers his techniques, my role was to package together his expertise and lessons into a logical and easy to follow package. Make Money Online: Roadmap of a Dot Com Mogul is the result of those efforts.